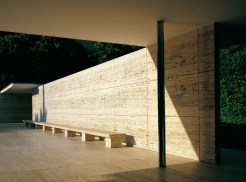 Mies on Scene: Barcelona in Two Acts
Mies on Scene: Barcelona in Two Acts
19 April 2018 at 9:00 pm
Played at Cinematheque.
Directed by Xavi Campreciós and Pep Martín

2018

Spain

57 minutes
The film documents the 1986 reconstruction of the Barcelona Pavilion, originally built in 1929 as the German Pavilion for the International Exposition. Though demolished in 1930, it remained profoundly influential thanks to the power of photography. Designed by Mies van der Rohe in collaboration with Lilly Reich, it is revered as a seminal modernist landmark.
Sponsored by Architecture49.